TTC rate per person
Length of course: 3 hours
Maximum number of participants: 4 (minimum: 2)
Location: The course takes place outdoors in Paris intramural.
The exact address is communicated to participants at least 48 hours before the reserved date
The aim of the course is to acquire the techniques and learn the specificity of night photography.
(see description below for more details)
To book, select a date in green and click on it, then click on the schedule that will appear, and finally click on the book button (follow the instructions to finalize your order)
This course will allow you to learn the specifics of night photography.
When daylight is dimmed, the use of the camera is different than during the day. Depending on the available light, you will need to adapt the settings, for example by increasing the sensor sensitivity (ISO) if you wish to continue to photograph freehand, or use a stable support, such as a tripod. In this case, other settings can be applied. The effects of these settings on the final result will be explained and practiced.
The course starts at the end of the day, 60 minutes before sunset (the time of sunset varies each day and according to the seasons, the schedules will be adjusted accordingly). The basics of night photography will be explained at this time. You will then be able to take advantage of the different phases at dusk to take pictures: golden hour, sunset, blue hour and night.
This course is intended for people who already have basic photographic technical knowledge and who know how to use their camera in the different shooting modes.
For this course, in addition to your camera, remember to bring a tripod, and possibly a wired (or remote control) shutter release if you have one.
Loan equipment:
If you don't have the type of material you need for this course, or if you just want to discover photography and don't have a camera, we can lend you one during the course, within our availability. For more information, visit the FAQ page (fair questions, "loan materials during photo classes" tab).
This course is also available
private course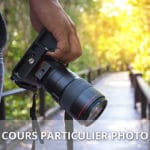 Only logged-in customers who have purchased this product can leave a review.