TTC rate per person
Length of course: 3 hours
Maximum number of participants: 4 (minimum: 2)
Location: The course takes place outdoors in Paris intramural.
The exact address is communicated to participants at least 48 hours before the reserved date
The aim of the course: to acquire the technical basics for practicing photography
Requirements: none
(see description below for more details)
To book, select a date in green and click on it, then click on the schedule that will appear, and finally click on the book button (follow the instructions to finalize your order)
This course will allow you to discover the technical basics of photography.
After an explanation of the structure and general features of an SLR camera, you will learn how to set up and control it by studying the different shooting modes (program, shutter priority, aperture priority, manual). Exposure, an essential element in photography, will be explained in detail, along with the three factors that make it up, known as the exposure triangle (sensor sensitivity, aperture, shutter speed). The consequences of the choice of settings, such as the impact on depth of field for example, will also be discussed.
If we won't be able to go into the details of your camera's menu here, each brand can have its own menus and specifics. we will take a moment to check that the basic important elements (and which are generally the same for all devices) are well tuned. We'll take this opportunity to give you some advice.
At the end of the course, which will alternate theory and practice, you will have covered the essential notions that will allow you to take pictures when leaving the fully automatic mode, and by understanding the implications of your choice of settings. We therefore advise you to bring, if possible, a camera with the standard shooting modes that are generally found on all reflex, hybrid, but also on high-end compact cameras (rated P, S, A, M or Tv, Av, P, M, depending on the brand).
The content of the course:
Camera: structure, hold
Accessories: tripod, trigger, filters (polarizer, ND, GND)
Exposure: the exposure triangle (ISO - sensor sensitivity, aperture value, shutter speed).
Shooting modes: program, aperture priority, speed priority, manual
Exposure compensation
Measurement modes: matrix, central weighted, spot
Light: type, quality
Jpeg - RAW
For information:
A summary will be given to you after the course. It will be sent the same day on your email, in the form of a PDF file. If you prefer a printed version on paper, you can ask us beforehand, so we can give it to you during the course.
One of our images of Paris, printed on 10x15cm photo paper, will be offered to you at the end of the course, with a small personalized thank you note on the back.
For a better understanding of certain concepts (ISO, diaphragm, speed, combinations of settings, etc.) we will present, in addition to explanations, an infographic on tablet.
Loan equipment:
If you do not have the type of equipment required for this course, or if you simply wish to discover photography and you do not have a camera, we can lend you one during the course, within the limits of our availability. For more information, please go to the FAQ page (frequently asked questions, tab "loan material during the photo course").
This course is also available
private course.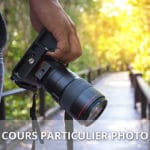 Only logged-in customers who have purchased this product can leave a review.