Who are we?
David Duchens Photography is a company that was created by a long-time photography enthusiast. With the experience of a dozen years of learning and perfecting image editing techniques, and specializing in the fields of architectural photography and portraiture, he will lead with passion for several years a blog, which will allow him to share his passion for the image. It is with this same passion that he now animates his activity. Read the photographic journey
To whom our courses are addressed
The photo courses are aimed at all image enthusiasts. Whether you are a beginner or an amateur wishing to acquire new knowledge, we will adapt our courses to your level and your needs.
How photo classes take place
The photo classes take place in Paris (intramural), only outdoors.
The meeting place is set beforehand, and communicated at least 48 hours before the course date. Without giving an exhaustive list here, the meeting places are usually around Parisian classics, such as the Eiffel Tower, the Louvre and the nearby bridges, etc. Finally, we try to define the place according to the course.
You will find an accurate description for each photocourse.
Loan materials during photo classes
If you want to discover the practice of photography, and you don't have a camera, we can lend you during the course a Nikon D3400SLR camera, equipped with a stabilized zoom of 18-105mm, and an infrared remote control ML-L3 for long poses.
Si vous pratiquez déjà la photographie et/ou vous intéressez aux appareils de type « mirrorless » (sans miroir), appelés plus communément appareils hybrides, nous pouvons vous prêter pendant le cours un des matériels suivants :
– Fujifilm X-T2, équipé d'un zoom Fujinon XF 10-24mm
– Fujifilm X-E2, équipé d'un zoom  Fujiinon XC 16-50mm.
– Fujifilm X-T1, équipé d'un zoom Fujinon XF 18-55mm (avec la poignée d'alimentation sur demande).
For the night photography course, two Manfrotto-branded tripods, one made of carbon and the other made of aluminum, can be made available to you. Both are equipped with a ball kneecap, and a classic fast tray (screwing on the underside of the camera).
You can also discover the practice of filtration, with the use of Filters ND (6 and 10 stops), GND (3 stops) and a circular polarizer brand NiSi.
A V5 Pro filterholder, with a set of 67, 72, 77 and 82 mm adaptive rings is available.
If you would like to have equipment loaned to you during a course, please request it beforehand by contacting us, and especially consider bringing your memory card (SD format) during the course, in order to leave with your images.
NB:
A copy of an ID will be requested for a loan of equipment.
The loan equipment will be provided as limited to our availability.
How do Photoshop online courses work?
Photoshop courses are individual courses.
Ils sont réalisés à distance, en visioconférence, avec l'utilisation du logiciel Skype (gratuit), qui permet de communiquer via Internet.
C'est grâce à la fonction de partage d'écran disponible sur Skype que le cours est réalisé très simplement.
Depuis mars 2020, nous utilisons également l'application spécialisée en visioconférence Zoom.
Afin d'optimiser la durée du cours, nous vous proposerons de vous contacter un jour ou deux avant la date réservée, afin de nous connecter sur Skype ou Zoom, et d'en vérifier le bon fonctionnement. Ce premier contact sera aussi l'occasion de vous donner quelques informations et conseils pratiques avant le cours.
How do the photo workshops work?
The photo workshops are collective (workshop) or individual (private lessons).
Les workshops à Paris accueillent 6 participants maximum et 3 minimum (en région : 8 participants maximum et 4 minimum) et se déroulent sur une ou deux journées (une journée en salle, et une sortie cours photo en extérieur le lendemain, selon la disponibilité des participants. Un descriptif détaillé peut être consulté directement sur la page de l'offre. Les workshops sont organisés ponctuellement. Un calendrier de réservation est disponible sur la page de l'offre. Ces ateliers sont généralement proposés le week-end.
The private lesson, as its name suggests, is for one person only. Its content is identical to that of the collective workshop. The date is fixed by mutual agreement. The private lesson is only offered during the week (except the photo lesson, which can be done on weekends).
How to book a course
The booking process is done with just a few clicks on the site. When you are on a course page, such as the photo technical course, you can see a booking calendar, like the one you can see in the illustration below. The dates marked in green represent available course dates (Figure 1).Click on the date of your choice, in order to make it appear the start time of the course (Figure 2). By clicking on this schedule, you'll be able to see The price of the course for one person (Figure 3). If you want to come together, just add the number of people you want, using the high/low arrows at the "people" window or entering the number directly with your keyboard; The total price will be changed accordingly (Figure 4). As the number of participants in the courses is voluntarily limited, you will not be able to book once the maximum number has been reached. Figure 5 visually shows the status of reservations: green - available or partially reserved (the number of available seats available is shown by clicking on the schedule); pink - full course. Once the reservation is made, you will be directed to the basket, where you can settle the order (Figure 6).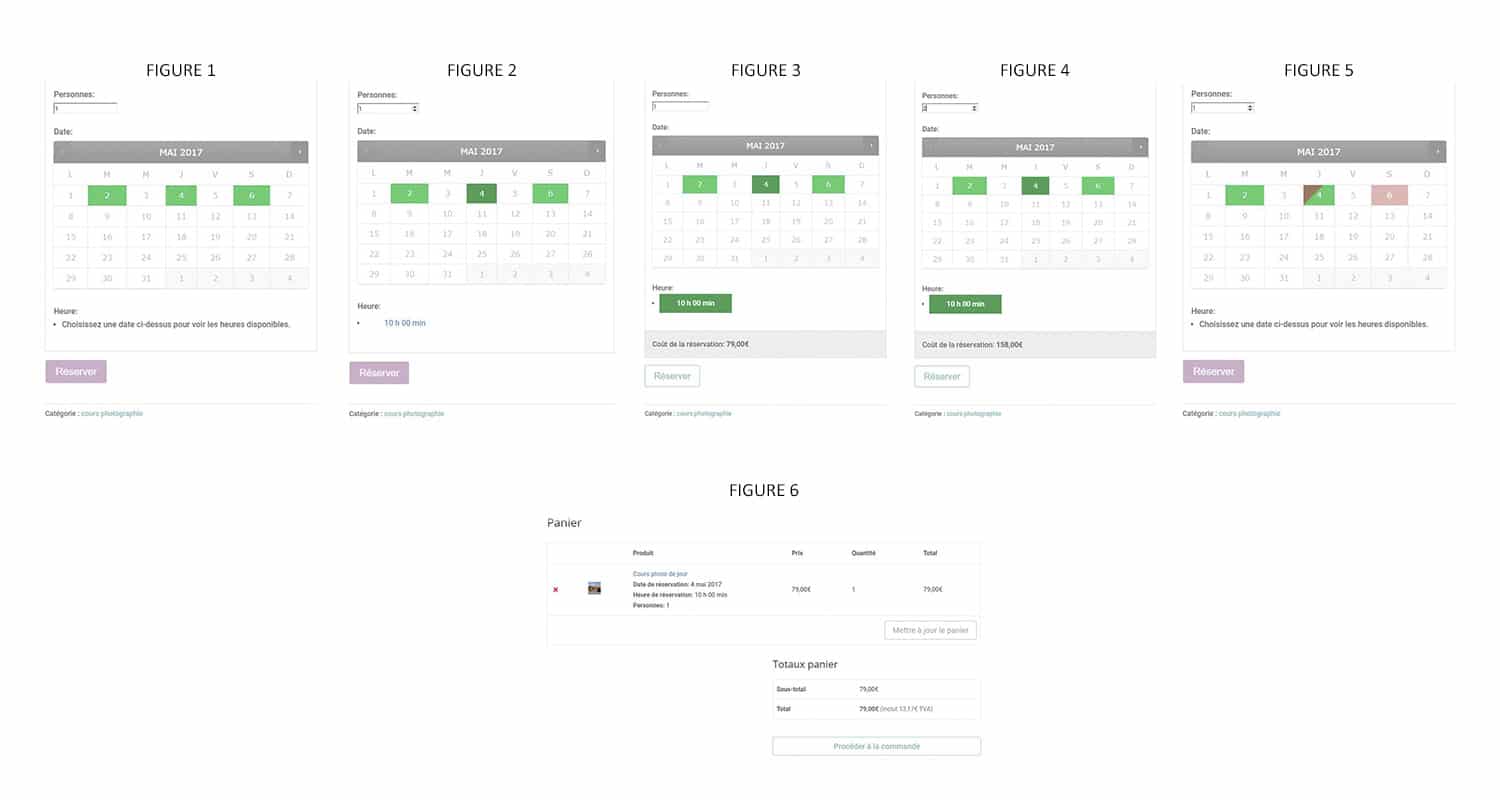 Why is there "De" in front of the prices of certain courses
You will find this entry in front of the prices of the courses "photo technique" and "night photo. This is simply because these courses are collective, so there is the possibility (if you wish) to book them for several people in one order. The price per person is the one shown in each course (Example: 79 euros TTC for 1 person for the technical photo course).
I can't finalize my order
The two most common cases that prevent you from finalizing an order:
A field of the form with the mandatory mention (symbolized by a red asterisk) was not filled out.
The acceptance box for the terms and conditions of sale (bottom of payment form, to the left of the "order" or "pay with PayPal" button, depending on the method of payment chosen), has not been checked.
Online payment and secure browsing on this site
This site uses an SSL certificate (identifiable in your web browser's address bar by the presence of a padlock and https protocol). Data exchanges are therefore secure. Paypal transactions are done directly on their website and are also secure.
If I don't want to pay for my order online, are there other ways to settle
Yes, absolutely. If you don't want to pay for your order online, you have another choice:
make a bank transfer (our bank details will be posted once you have validated this option). The course will not be definitively confirmed until the settlement has been received and received. So plan a course date that leaves time to receive your settlement.
How to use a promotional code
When a promo code is available on the site, you must apply it in your shopping cart, when you order, in order to benefit from the discount. To do this, simply copy the code (or copy/paste) in the "Promo Code" box, which is to the left of the basket window, under the product description. Finally, you need to click on the "Apply the promo code" box to show the new amount that has been re-booked. When a promo code is available, it is communicated on the website, and in the description of the course concerned.
How can I leave an opinion on a course
The ability to leave a review on the site following a course, involves having created an account when you ordered. This option is available during the ordering process, and is of course only optional. The account allows you to view your commands, and simplifies the process in the event of a new order. If you haven't created an account, but you want to leave a review, you also have the option to do so simply on our Facebookpage. You can already read several reviews.
How can I order a photo print?
You can order the photo prints directly on the website, on the page photo print.
Only paper prints can be ordered online. For the other offers (under frame, or printing on plexiglass), the possibilities being very varied, you can contact us, in order to define your choice.
Before ordering your print, you can discover the selection of images available on this same page, and locate the reference of the one you want to order (for example: 1,2,3, etc. or A1,B2,C3, etc.). You can see some examples on the screenshots below: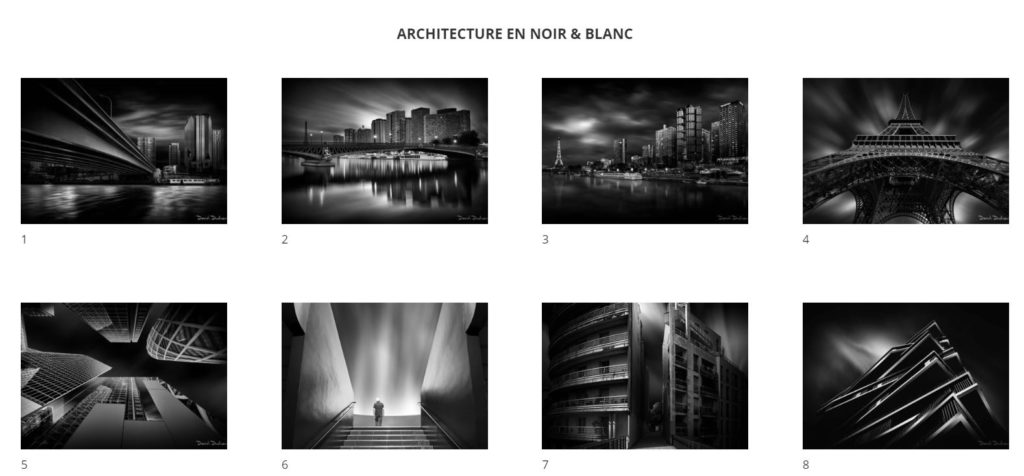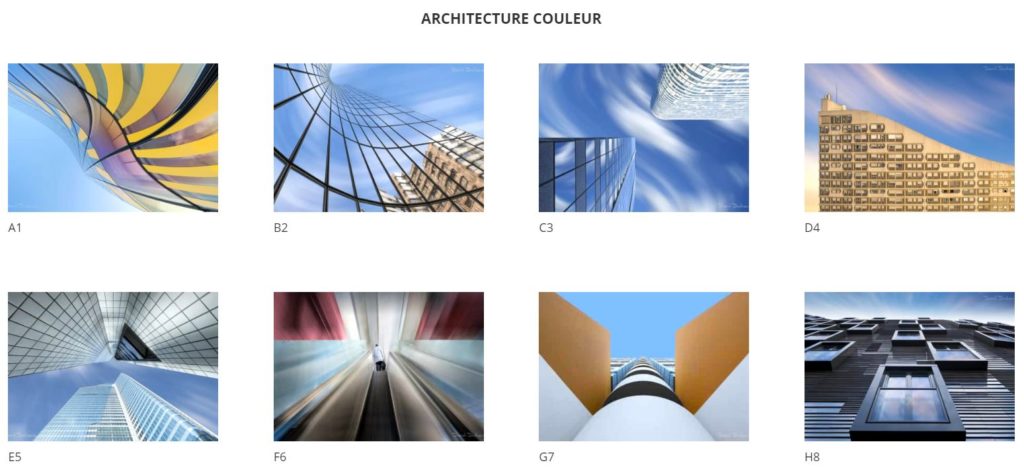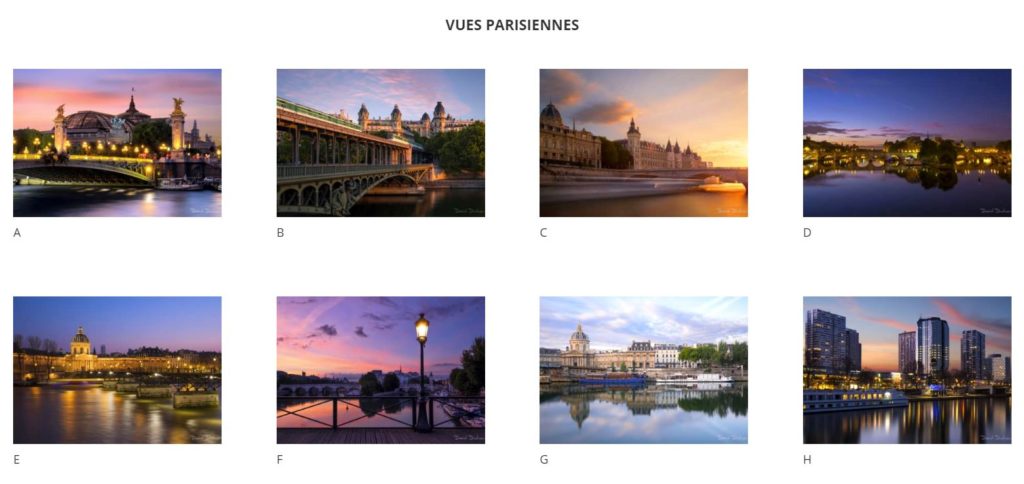 You must then click on the thumbnail photo printwhich you will find at the top of the page, under "DRAW ONLY".
You will then arrive on the purchase page, on which you will have to choose the format (there are 3 formats available: 30x45cm; 40x60cm; 60x90cm), choose the quantity, and press the "Add to cart" button.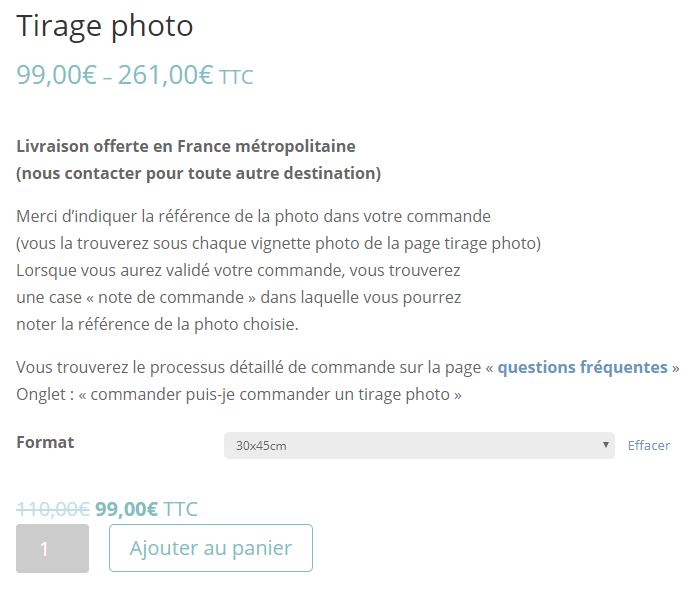 Once the addition to the basket is done, you will arrive on the basket page, summarizing your order: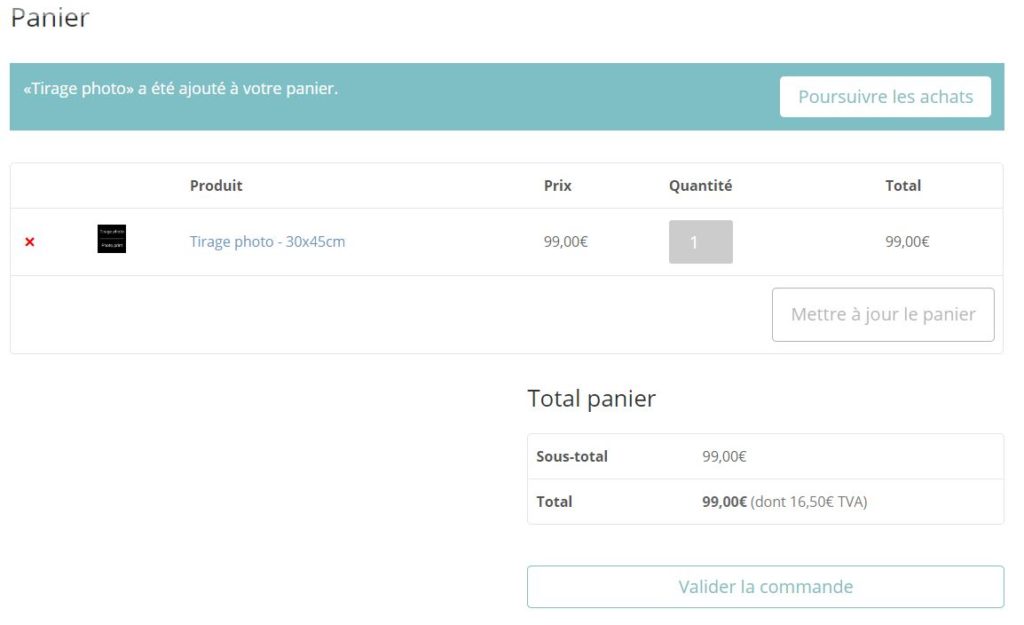 At this stage, all you have to do is press the "confirm order" button.
You will then arrive at the last step, the order page, on which you will only have to enter your data and follow the process, as well as enter the reference of the chosen photo, in the "Order notes" box (additional information section), at the top right. See the screenshot below: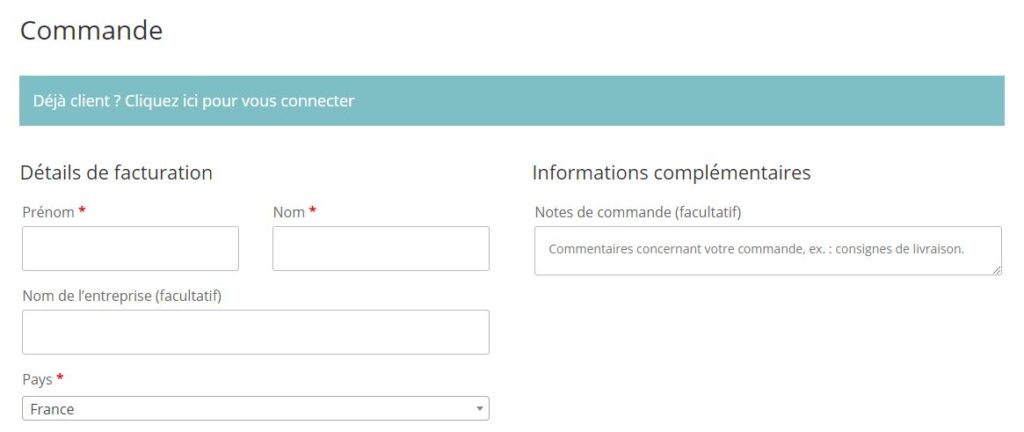 That's it, the order is now placed.
Upon receipt of the latter, and in order to avoid any possible error in the choice of the image, we will send you an e-mail, with a thumbnail of the chosen image.
For information, delivery is offered for any order whose delivery address is in metropolitan France.
For other destinations, please contact us.