Architectural photo course
TTC Price for one person
Length of course: 3 hours
Maximum number of participants: 4 (minimum: 2)
Location: the course takes place outdoors in Paris intramural
The exact address is communicated to the participant at least 48 hours before the reserved date
The aim of the course: to learn the specifics of architectural photography
Requirements: good camera control
(see description below for more details)
To book, select a date in green and click on it, then click on the schedule which will appear, and finally click on the book button (follow the instructions to complete your order)
This course will allow you to discover the specificity of architectural photography. This field of photography requires rigor and precision in its practice, you will learn its characteristics.
Course content :
- Introduction to architectural photography I will introduce you to the different approaches.
- What equipment to use Camera, optics, tripod, accessories, each element will be explained. You will also have the opportunity to discover during the course a tilt-shift lens, especially dedicated to architectural photography (Canon TS-E 17mm f/4L).
- The light Light : you will study the different lights, and their impact on architecture.
- Shooting Camera settings and shooting modes adapted to architectural photography will be explained.
- Constraints and hazards : differences in luminosity, weather, undesirable elements in the frame during the shooting, etc., I will explain these different aspects to you to take into account.
- Composition Rules of composition : composition rules being a subject in their own right in photography, I will present those generally used in architectural photography.
The lines, characteristic components of the constructions, will be reviewed. You will learn their symbolism and how to use them in composition.
- Post processing At the end of the course, I will give an introduction to the correction of architectural images.
Remarks :
- If you have a tripod, which is very useful for architectural photography, you can bring it with you.
- This course is dedicated to outdoor architectural photography. However, we do cover some specific aspects of indoor photography during the course.
For information:

A summary will be given to you after the course. It will be sent to your email address as a PDF file.
This course is also available
private course.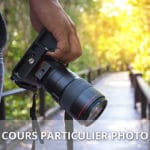 Only logged-in customers who have purchased this product can leave a review.