WORKSHOPS
Learn photo and Photoshop techniques by participating in my online and face-to-face workshops
Attractive and economical packages, including 6 hours of classes
GROUP COURSES
BY VIDEOCONFERENCE
I regularly offer workshops, either myself or in collaboration with photographers from different fields and styles.
The online workshops are group courses. They are given by videoconference via the dedicated ZOOM application. They take place live, and include 2 classes (on two different dates).
The face-to-face workshops take place indoors, to study image processing with Adobe Photoshop software. Depending on the formula, part of the workshop can also be dedicated to shooting, which will then be done outside. I occasionally offer workshops in Paris and in several other cities in France.
All workshops, whether online or face-to-face, are recorded live. The video recording is handed over after each course.
Click on the thumbnails to see the details of the courses 
ONLINE WORKSHOPS IN ENGLISH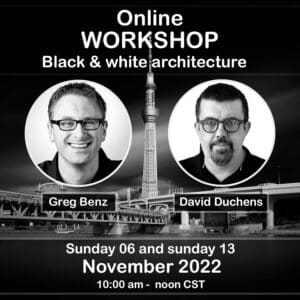 This workshop can be booked directly
on the Greg Benz website.
Click on the thumbnail to access it

No new dates currently scheduled